I love educational toys. Not only are they fascinating with the kids but it also help their mind's development. With so many toxic chemicals found on plastic toys we planned on only buying wooden toys for Una. However, wooden toys are more expensive than plastic toys and variation are very limited here in the Philippines. Even if we wanted to stick to wooden toys, we have no choice but to still buy plastic toys.

Just this weekend, while I was shopping for birthday gifts for my college friend's daughter, I saw this wooden number puzzle. I knew at that moment that I am going to buy one for the birthday celebrant and one for Una.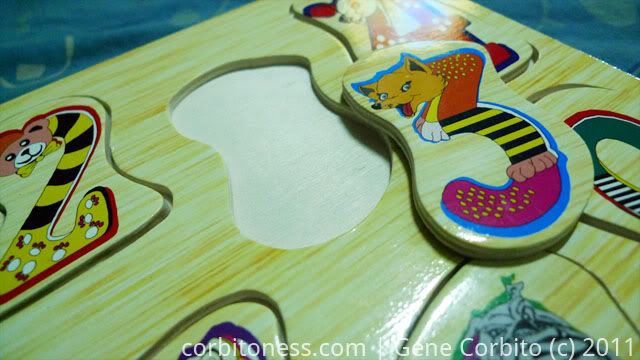 It was a hit to Una! She love the wooden puzzle and it kept her occupied on our way to the birthday celebrant's house. It was very light and with no sharp corners. Each puzzle pieces are as big as a toddler's hand, less risk for the children to accidentally choke on them.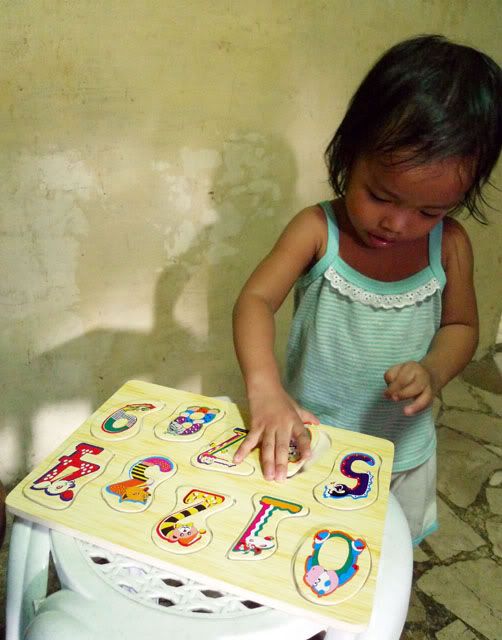 This puzzle is really affordable. Only Php 100 in a toy store in Marikina Riverbanks. There are two other wooden puzzle available: land and water animals for Php 150 each. They are a bit bigger and more colorful than this wooden puzzle. I am looking forward to visiting that store again. I might discover other affordable wooden toys.