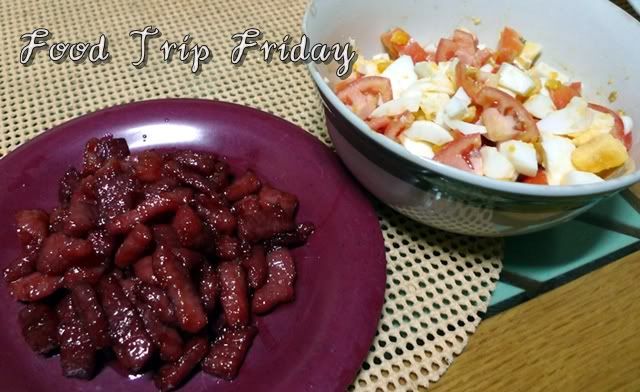 This is one of the food/meal combination that are perfect for cold weather. Usually, Tocino is eaten with egg and fried rice for breakfast. Thus the name Tosilog (Tocino-sinangag-itlog). But hubby works at night so we had this for dinner instead. We use pre-packed fatless tocino from Pampanga's Best.
The egg and tomato salad is really easy. A perfect match with fried tinapa but we don't have as of the moment. Ideally, salted egg or red egg is used for this salad but the little toddler find it too salty so I substituted it with hard boiled chicken eggs instead.
Ingredients:
3 red eggs / salted eggs /regular chicken eggs
3 tomatoes, chilled and chopped
cilantro (optional, roughly chopped)
fish sauce /patis (if you use regular eggs)
With the photo above I boiled 3 regular chicken eggs then cut into small pieces then mix with chopped tomatoes. We don't have cilantro in our pantry this time so we skipped it. Then add a couple of tablespoons of fish sauce and water to taste.