Earlier today, I convinced DK to have an afternoon walk with Una along the Riverbanks. We have a wonky schedule since DK was required to work in the night shift and his days off are not in the weekend. Today is the first day of his new rest day and I figured we should take advantage of the good weather.
After our short walk we arrived Marikina Riverbanks Mall. Una was having the time of her life walking/running around the mall and when she saw the paid play areas she was ecstatic! It was almost dinner time so we only paid for a 30 minute play. Playtime charges Php 60 for 30 minutes and no additional payment for the guardian.
There are 3 paid play areas in Marikina Riverbanks Mall, The smallest charges Php 50 for 30 minutes, best for kids who loves ball and inflatable bouncers, mostly Little Tykes. Next is where we went which offers a lot of variety for boys and girls. They have slides, basketballs,  playhouses, plastic kitchen toys, swings and video games. The largest one is very similar to Active Fun that charges Php 100 for 30 minutes and I think there is an additional payment for the guardian. I didn't get the chance to take a photo of each play areas since Una was so excited to go in, the staff allowed her to enter the play area even while I was filling up the form.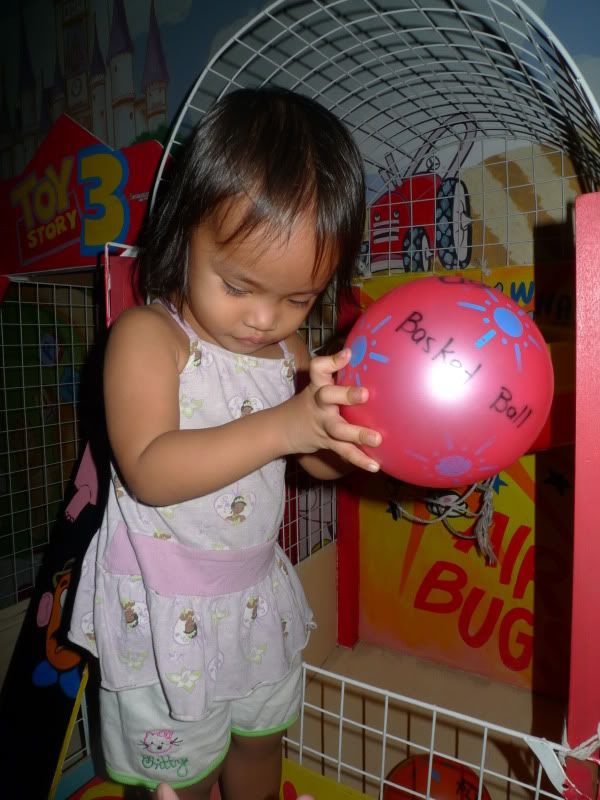 I took a lot of photos while we're inside PlayTime but I'll reserve those for another blog post. But with today's photo, Una was obviously playing basketball, says so on the pink ball's label, hahaha!