Last month, we accompanied the in-laws to visit brother-in-law in Camp Aguinaldo. You see some of DK's family on both sides are/were in the military. From his retired Army grandfather (mother side), uncles from both sides, retired PAF father and now his brother and two cousins are also in the military.
Since DK is the very first male descendant of his generation, it was expected that he also took that path. But he didn't want to. It may have caused some disagreements in the family but what can they do since DK loves computer. It's a good thing that he didn't agree to be enlisted because I know for a fact that I am not fit to be a military wife. All those time away during trainings and far away place where he might be assigned. My heart couldn't take that.
Anyway, since BIL is now back from his training from Tarlac, it was common in this household that the in-laws would go to the camp and visit him once in a while. This time we decided to go with them.
Una in her pink ballerina dress.
It was a gift by one of his uncles. Her pink Dora the Explorer Crocs was a gift by my sister-in-law two Christmases ago.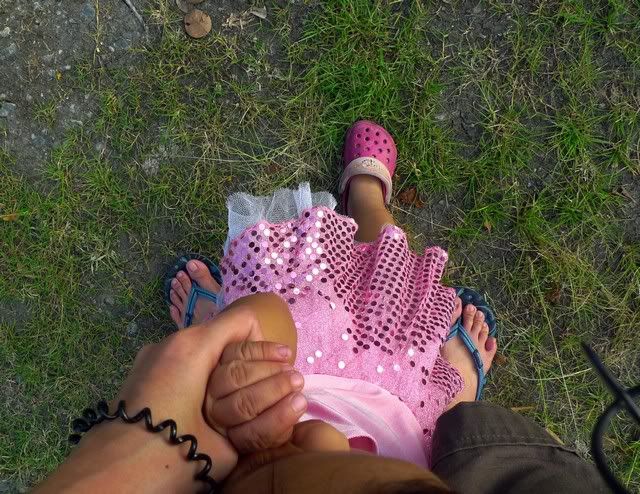 Notice the sequins in her dress? Let's just say that Una picked them one by one. Most of them were left in the van while the other were still sticking on our legs when we went home.
Side note: I love looking at her little fingers in the photo. She was trying to sneak behind me so she can join the military officials in their basketball. Hahaha!